CAS No.:25103-12-2
Molecular formula:C24H51O3P
Molecular weight: 418
Chemical structural :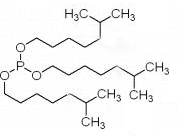 Specifications: Color(Pt-Co) ≤ 200
Density(ρ425) 0.883-0.900
Refractive index(nD25) 1.4470-1.4520
Acidity(KOHmg/g) ≤0.10
Properties:Colorless or pale yellow transparent liquid, alcohol taste, insoluble in water, soluble in benzene, alcohol and other organic solvents.
Applications :Polymer additives and a kind of chelator and stabilizer used in PVC and other synthesis resin products, and also used as anti-ageing agent and antioxidant for plastics such as PE、PP、ABS & SBS etc.
Package: 180kg net galvanized drum; 720kg net (4 drums) per pallet ,and 14.4MT net per 20' container.